Winnipeg Winter Activities 2021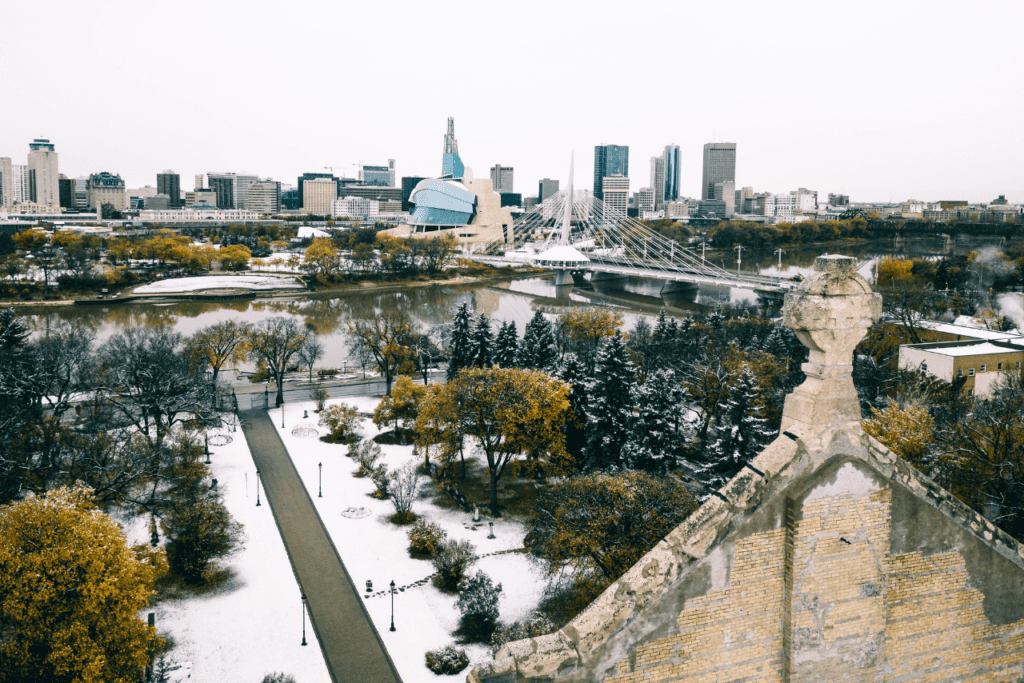 Winnipeg is notorious for bone-chillingly cold winters- it's not rare to have temps that dip to -40 C° mid-January or February. Thankfully, winter 2020/21 has been unseasonably mild so far… a welcome change with the way COVID-19 threw us all for a loop this year. 
The city boasts a number of awesome indoor winter adventures, but since we're all doing our part to stop the spread of COVID-19 by staying at home, we thought this was the perfect opportunity to highlight a few of the city's outdoor winter attractions.
Read on for our top Winnipeg winter activities for 2021:
Snowshoeing and Ice Fishing at FortWhyte Alive
FortWhyte Alive's mission is to bring people together to share unforgettable experiences and build sustainable relationships with nature. The 660-acres of reclaimed green space is home to a number of cold-weather activities including;
-hike, bike or snowshoe the trail (and see if you can spot Canada's only urban bison herd)
-birdwatch and try to spot one of the 160 sighted species
-venture onto the frozen lake and drop a line for some catch and release fishing
Toboggan Hills
No matter which part of the city you're from, you can be sure there is a toboggan hill or winter slide run close by. Bomb down a hill and feel the wind in your hair at Crescent Drive Park, Kildonan Park. St.Vital Park, Springs Church, Assiniboine Park, Whittier Park, Westview Park (aka 'Garbage Hill'), Civic Park, Harbourview Rec Complex, Fraser's Grove Park or Bunn's Creek Park!
Take a Self-Led Walking Tour
You don't need to leave the city to keep busy during the winter! The Exchange District has a number of awesome pieces of street art tucked away in back alleys and thoroughfares- how many can you find?
Wolseley's Back Alley Arctic is another inner-city winter escape. Nestled between Canora and Ethelbert street, take a walk and explore the multi-piece installation created by artist Kal Barteski.
Skate the Centennial River Trail and See the Warming Huts
A Winnipeg classic- the Forks can never be overlooked. There's a reason why it's always included on lists of things to do around the city, it's just that good. 
We missed out on a River Trail last year (choppy ice prevented the river from being plowed), that's why we think it's so important to get outside and take advantage of this year's edition. 
The River Trail is home to a number of warming huts that have been featured in countless publications, including the New York Times and LA Times. This year's huts should be on the river by the end of the month, but last year's huts are on the ice as we speak!
Explore a Snow Maze
Looking for record-setting excitement? Visit the world's largest snow maze (as verified by Guinness) at A Maze in Corn in St. Adolphe, MB. 
Not up for a maze? Visitors to the site can also enjoy sleigh rides, bonfires, sliding down the giant snow mountain, or relaxing in the warming barn.
Festival du Voyageur
Is there anything more quintessentially Manitoban than Festival du Voyageur? 
The organizers have had to pivot to adapt to COVID-19 regulations so the exact plan for Festival du Voyageur 2021 is still up in the air (pending changing public health orders), so check back here as plans finalize. 
Spend time with a Lincoln
You have your list of winter activities, but do you have the right vehicle to get you there? We're proud to offer a Discovery Drive program, where you can spend up to two full days test-driving a Lincoln of your choice. Get behind the wheel and discover what true luxury feels like. 
Interested in Discovery Drive? Learn more here.